Treatment of large bladder stones through percutaneous access with Swiss LithoClast® Trilogy
Byrne MHV, Dragos L, Winterbottom A, Saeb-Parsy K, Wiseman OJ (2020) Percutaneous cystolitholapaxy using the LithoClast Trilogy for multiple bladder stones, Journal of Endourology Case Reports X:X, 1–3,
Weblink: https://doi.org/10.1089/cren.2019.0143
Key takeaways:
Case report on treatment of large bladder stones with a cumulated stone volume of 27.500 mm3 and HU of 408/462 with LithoClast® Trilogy 
Trilogy activation time was 40'9''
Calculated stone clearance rate: 687 mm3/min
Case Report:
Background:
Multiple large bladder calculi are traditionally managed through open cystolithotomy or transurethrally in patients who have an open bladder neck. Open procedures are technically challenging in patients who may have had multiple previous open surgeries, and may be associated with significant morbidity in patients with a high comorbid burden. Therefore, a percutaneous approach to such stones has been used especially when there is a closed bladder neck, and has been shown to be effective. There are a number of available devices for breaking stones in these approaches, the newest of which is the LithoClast Trilogy™ (EMS, Nyon, Switzerland) device, a probe that provides ultrasonic and mechanical calculi fragmentation and suction in a single instrument.
Case Presentation:
We describe the first reported case of percutaneous cystolitholapaxy using the LithoClast Trilogy device in a 41-year-old woman with spina bifida, and multiple large bladder calculi with a history of ileocystoplasty and Mitrofanoff formation, and a bladder neck closure for neuropathic bladder. The calculi measured 31 and 25 mm, and had a volume of 19.6 and 7.9 cm3 and average HU of 408 and 462, respectively. The calculi were composed of 37% calcium phosphate and 63% magnesium ammonium phosphate.
Conclusion:
We demonstrate that this approach can be used as a viable alternative to open surgery, which is of particular importance for complex patients who have undergone multiple previous open operations, and who may have a high comorbid burden.
Byrne MHV, Dragos L, Winterbottom A, Saeb-Parsy K, Wiseman OJ (2020) Percutaneous cystolitholapaxy using the LithoClast Trilogy for multiple bladder stones, Journal of Endourology Case Reports X:X, 1–3, https://doi.org/10.1089/cren.2019.0143
Related products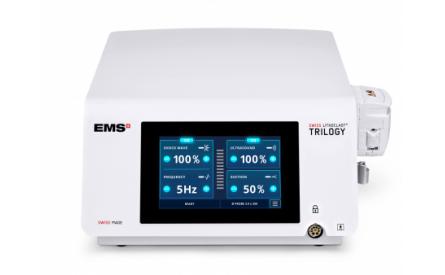 Experience lithotripsy like never before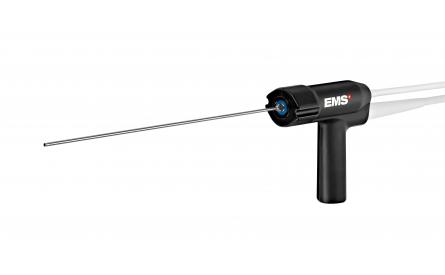 Ballistic, Ultrasound and Suction: 3 Modalities via one single probe