The Holmium:YAG laser has become a multi-purpose tool in endoscopic urology.
Introduction
The Holmium:YAG (Ho:YAG) laser is a highly comprehensive tool for endourology, using the doping element holmium as an active medium in a yttrium-aluminium-garnet (YAG) crystal. It is a solid-state, pulsed laser designed for emitting light at 2100 nm, which is invisible to the human eye and is in the near-infrared region of the electromagnetic spectrum. Considering that the holmium wavelength can be transmitted down optical fibers, the Ho:YAG laser has become a multi-purpose tool in endoscopic urology. It provides tissue cutting and coagulative hemostasis.
Learn more about the basics of laser technology in the field of urology
The Ho:YAG laser has high water absorption, and, given that water constitutes the majority of tissue, a substantial part of holmium energy is superficially absorbed. As a result, only superficial cutting or ablating can be performed with the device.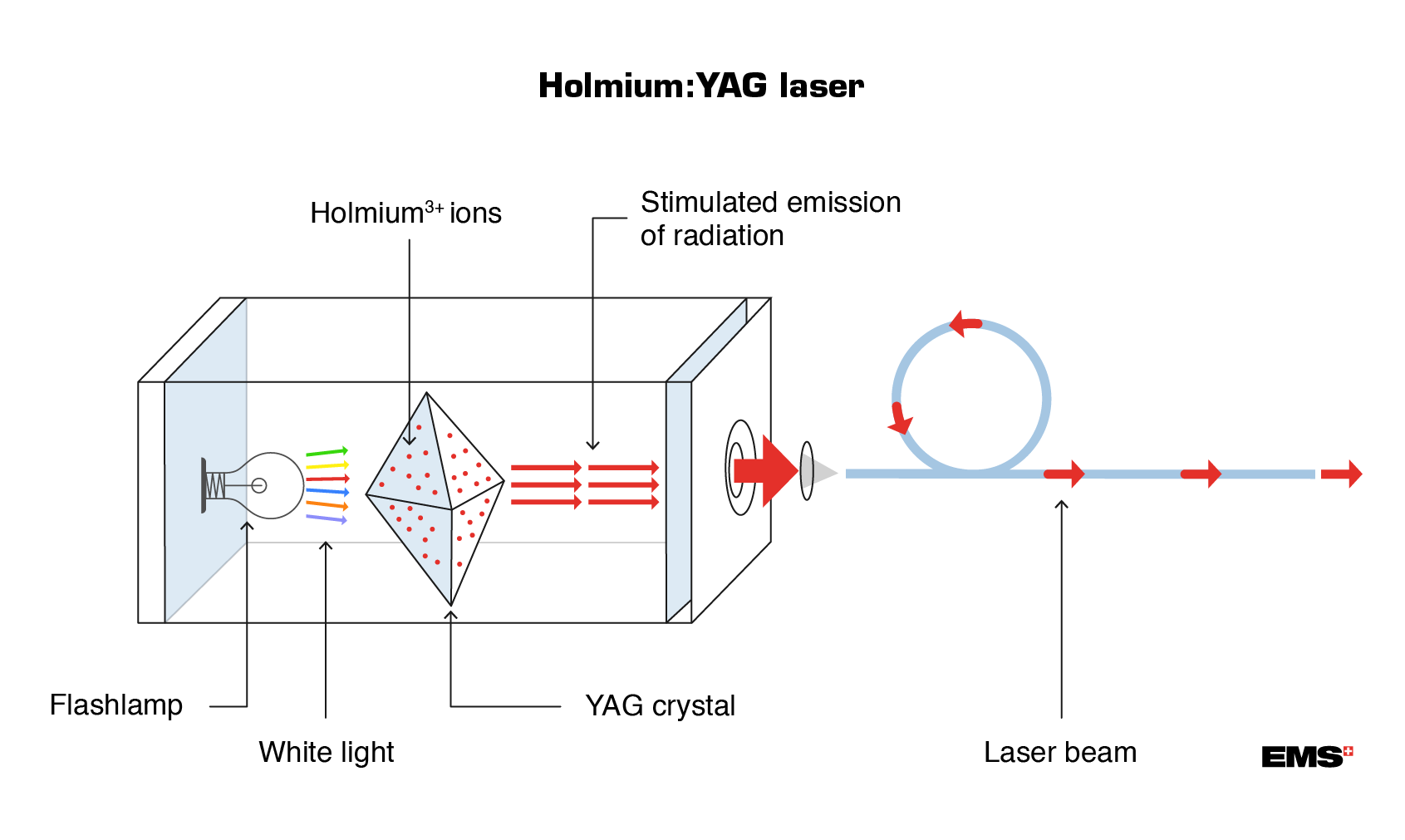 Holmium:YAG - the Swiss Army Knife of lasers
Ho:YAG technology explained
Ho:YAG lasers are pulsed lasers. That means that power (measured in Watts) is a function of the energy (measured in Joules) emitted by the laser times the frequency (measured in Hertz) used during the procedure. Finding the right settings of energy and frequency is therefore critical.

The Swiss LaserClast® is offering short and long pulse modes for lithotripsy. In long pulse mode, the energy is delivered over a longer time so that the peak pulse power is reduced compared to the short pulse mode. The Swiss LaserClast® can deliver pulse lengths up to 1500 µsec.
What are the advantages of the long pulse mode?
Improves fragmentation control by reducing stone migration.

Reduces laser fiber burn back.

Provides efficient haemostasis, coagulation and tissue cutting/ablation
"Use the technology in a good way. Don't use all the possibilities of the technology. Be modest. Know exactly what you can do with the technology." - Prof. O. Traxer
The main difference between Ho:YAG lasers available on the market lies in their power output. The importance in terms of the clinical output of both low-power and high-power lasers in being researched. The dissimilarity between devices is the amount of light sources bundled into one laser fiber. These light sources emit the same energy but in high power lasers are used in parallel to create greater power. 
EMS Urology is offering a range of low-power systems with the aim to provide the best benefits for physicians, especially for flexible ureteroscopy.
"There is no clinical benefit (of a high power over a low power laser) in terms of clinical data for flexible ureteroscopy"  - Prof.  O. Traxer*
Image
Clinical applications of Ho:YAG laser technology in Urology
Decades of successful therapeutic use in urology have established lasers as an extremely valuable tool for open and endoscopic urological surgery including ablation, vaporization, incision, excision and coagulation of soft tissues. Innovative features and solutions are further expanding their clinical applications.
Some of the clinical applications of the Ho:YAG laser include:
Endoscopic fragmentation of urinary (urethral, ureteral, bladder and renal) calculi 

Ablation and resection of bladder tumors, urethral tumors and ureteral tumors

Urethral and ureteral strictures

Condylomas

Lesions of external genitalia

Bladder neck incision (BNI)
Stone management using Ho:YAG lasers
Flexible ureteroscopy
Percutaneous nephrolithotomy
Percutaneous nephrolithotomy is a mini-invasive procedure for removing medium (≥2 cm) to larger size renal calculi (kidney stones) from the patient's urinary tract by means of a nephroscope passed into the kidney through a percutaneous track created in the patient's lower flank or abdomen. 
Additional information on indications for using Holmium:YAG lasers
Transitional cell carcinoma
Lasers are a safe and effective option for treating these comparatively rare but distressing tumors located in the renal pelvis and ureter. The depth of penetration of the Ho:YAG laser is equal to 0.4 mm, which makes this a safe choice for small ureteral tumors. 
Ureteropelvic junction (UPJ) obstruction 
UPJ obstruction can also safely be handled with endopyelotomy using the Ho:YAG laser. Furthermore, the holmium laser is particularly effective in the minimally invasive management of urethrovesical anastomotic strictures after renal transplant and ureterointestinal anastomotic strictures after urinary diversion.
Discover EMS cutting-edge laser devices for stone management
References
Impact of pulse duration on HO:YAG laser lithotripsy: Fragmentation and dusting performance M. J. Bader Department of Urology, Kreisklinik Ebersberg Gemeinnützige GmbH, Ebersberg, Germany T. Pongratz · R. Sroka Laser Research Laboratory (LFL) in LIFE-Centre, Hospital of University Munich, Feodor-Lynen-Str. 19, 81377 Munich, Germany W. Khoder · C. G. Stief Department of Urology, Hospital of University Munich, Hanover, Germany

Traxer, Olivier, and Etienne Xavier Keller. "Thulium fiber laser: the new player for kidney stone treatment? A comparison with Holmium:YAG laser."

World journal of urology

vol. 38,8 (2020): 1883-1894. doi:10.1007/s00345-019-02654-5

Enikeev, D. , Shariat, S. , Taratkin, M. & Glybochko, P. (2020). The changing role of lasers in urologic surgery.

Current Opinion in Urology, 30

(1), 24-29. doi: 10.1097/MOU.0000000000000695.

Zarrabi A, Gross AJ. The evolution of lasers in urology.

Ther Adv Urol

. 2011;3(2):81-89. doi:10.1177/1756287211400494

Sandhu AS, Srivastava A, Madhusoodanan P, et al. Holmium : YAG Laser for Intra Corporeal Lithotripsy.

Med J Armed Forces India

. 2007;63(1):48-51. doi:10.1016/S0377-1237(07)80109-2

*Ventimiglia E. et. al. High- and low-power laser lithotripsy achieve similar results: A systematic review and meta-analysis of available clinical series. Journal of Endourology © Mary Ann Liebert, Inc. DOI: 10.1089/end.2020.0090