Benign Prostatic Hyperplasia (BPH) Surgery
Procedure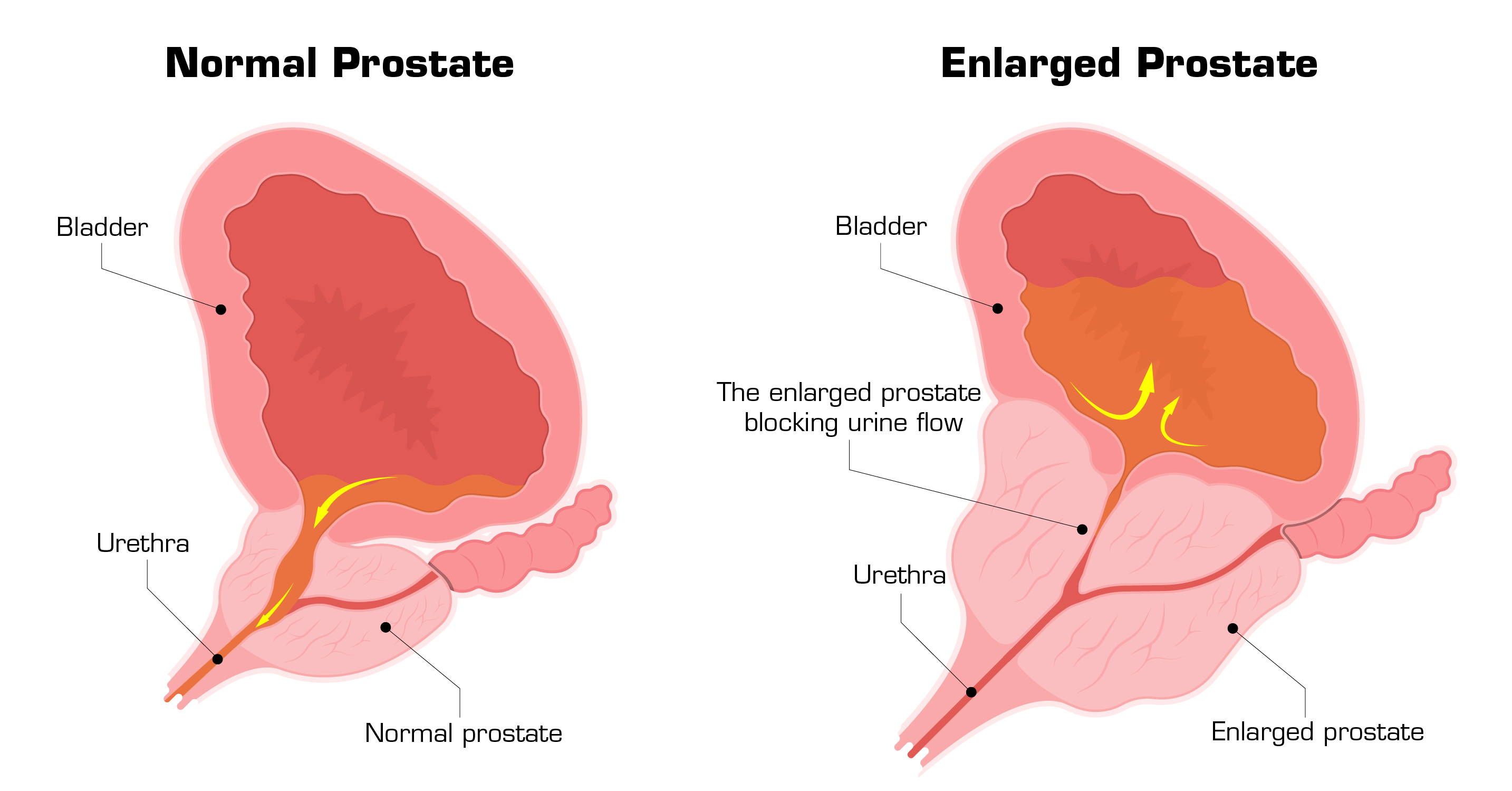 Lasers can cover up to 80% of prostatic surgical indications.
How to diagnose BPH?
Start by asking your patient detailed questions concerning symptoms and continue with a physical examination. Always perform a digital rectal exam.
Instruct your patient to perform crucial tests such as: 
urine test
blood test 
prostate-specific antigen (PSA) blood test
Additional tests which can help ruling out other conditions and confirming BPH include: 
urinary flow test
postvoid residual volume test
prostate MRI 
transrectal ultrasound
cystoscopy

Treatment and management of BPH
Prior to the selection of treatment, it is fundamental to assess the symptom severity. In many cases it is mild, thus patients do not need drug treatment or surgical intervention. 
Following lifestyle modifications, medication is usually the first treatment option for symptomatic BPH. 
Surgical management is another option for treating BPH in patients suitable for the procedure.

What are the indications for the surgery?
recurrent/refractory urinary retention
overflow incontinence
recurrent hematuria 
recurrent UTIs
bladder stones/diverticula
progressive renal failure
dilation of the UUT due to benign prostatic obstruction
The surgical management of BPH is evolving at a staggering rate, resulting in new minimally invasive surgical techniques. Current surgical modalities include:
Simple prostatectomy 

Transurethral resection of the prostate (TURP) 

Transurethral incision of the prostate (TUIP)

Prostatic artery embolization

Laser treatments of the prostate:

Ho:YAG and TM fiber
Although TURP has been the gold standard for the surgical management of BPH, the paradigm is shifting due to advantageous laser techniques.
Studies comparing the use of TURP and high power Ho:YAG in treating BPH have found that Ho:YAG had [5,6,7]: 
Shorter catheterization times
Shorter hospital times 
Greater symptomatic improvement 
Less perioperative morbidity
Superior urodynamic outcomes
The revolutionary urology laser technology using thulium fiber, such as EMS' brand new LaserClast® Thulium Power, is also indicated for BPH treatment and significantly extends the boundaries of contemporary urology.  
What is the natural history of BPH?
The majority of men demonstrate continuous prostate growth throughout their lives. This benign growth of the prostate surrounding the urethra compresses the urethral opening, hampering urination and ultimately prompting it impossible. This blockage will result in modifications of the bladder such as: 
increased bladder mass, 
progressive infiltration by connective tissue, 
reduction in density of autonomic nerves, 
increased content of nerve growth factor, 
decreased blood flow and oxygen tension. 
Even though BPH is not a life-threatening condition, left untreated may lead to serious complications such as acute urinary retention (AUR), renal insufficiency and failure, urinary tract infection, bladder stones and lower urinary tract symptoms (LUTS). 
It is crucial to acknowledge that BPH is linked with serious morbidities such as an increased risk of falls, depression and significantly lower quality of life due to insufficient sleep, poor mental health and diminished sexual activity.
What are the symptoms and risk factors of BPH?
The acuteness of symptoms in people suffering from BPH varies, however, usually symptoms worsen over time.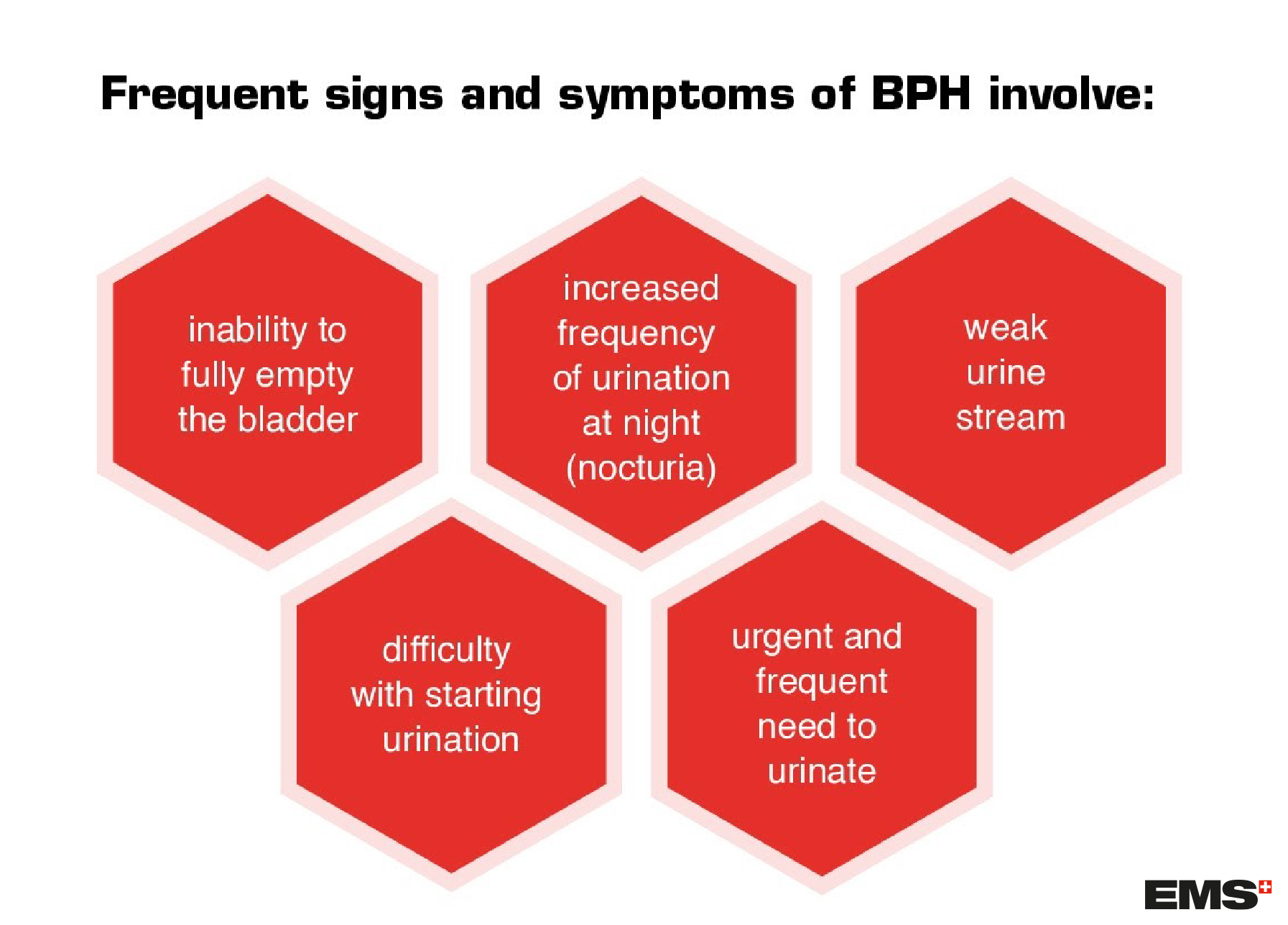 Less common symptoms include: 
presence of blood in the urine
urinary tract infection 
Risk factors for BPH include ageing, obesity, lifestyle (unhealthy diet, smoking, alcohol intake), comorbidities (including hypertension, dyslipidemia, metabolic syndrome, hormonal imbalance).
Reference
Wang, W., Guo, Y., Zhang, D. et al. The prevalence of benign prostatic hyperplasia in mainland China: evidence from epidemiological surveys. Sci Rep 5, 13546 (2015).https://doi.org/10.1038/srep13546 
Verhamme, K M C et al. "Incidence and prevalence of lower urinary tract symptoms suggestive of benign prostatic hyperplasia in primary care--the Triumph project." European urology vol. 42,4 (2002): 323-8. doi:10.1016/s0302-2838(02)00354-8
Calogero, Aldo E et al. "Epidemiology and risk factors of lower urinary tract symptoms/benign prostatic hyperplasia and erectile dysfunction." The aging male : the official journal of the International Society for the Study of the Aging Male vol. 22,1 (2019): 12-19. doi:10.1080/13685538.2018.1434772
Lokeshwar SD, Harper BT, Webb E, et al. Epidemiology and treatment modalities for the management of benign prostatic hyperplasia. Transl Androl Urol. 2019;8(5):529-539. doi:10.21037/tau.2019.10.01
Eltabey MA, Sherif H, Hussein AA. Holmium laser enucleation versus transurethral resection of the prostate. Can J Urol 2010;17:5447-52
Wilson LC, Gilling PJ, Williams A, et al. A randomised trial comparing holmium laser enucleation versus transurethral resection in the treatment of prostates larger than 40 grams: results at 2 years. Eur Urol 2006;50:569-73. 10.1016/j.eururo.2006.04.002 
Tan, A., et al. Meta-analysis of holmium laser enucleation versus transurethral resection of the prostate for symptomatic prostatic obstruction. Br J Surg, 2007. 94: 1201. https://www.ncbi.nlm.nih.gov/pubmed/17729384 345. Yin, L., et al. Holmium laser enucleation of the prostate versus transurethral resection of the prostate: a systematic review and meta-analysis of randomized controlled trials. J Endourol, 2013. 27: 604