Stone clearance times with mini-percutaneous nephrolithotomy: Comparison of a 1.5 mm ballistic/ultrasonic mini-probe vs. laser.
 Timm B., et al. Canadian Urological Association Journal vol. 15,1 (2021): E17-E21. 
Study background 
Mini-percutaneous nephrolithotomy (Mini-PCNL) is a minimally invasive endoscopic procedure that requires a specific technique, as it utilizes relatively small instruments within restricted diameter access (to even 5 French or smaller). Treating renal calculi through the narrow working lumen of mini-nephroscopes represents the major challenge when conducting mini-PCNL. On the other hand, disintegrating renal stones with pulsed laser as an alternative is associated with slower fragmentation times for large stones compared to kinetic and ultrasonic lithotripters. This study aimed to evaluate the efficiency of ø1.5 mm Swiss LithoClast® Trilogy in Mini-PCNL and compare the results to consecutive cases performed with a 30 W Holmium:YAG laser. 
Data from 27 patients were prospectively collected and included in this study. A total of 11 individuals underwent Mini-PCNL with the use of Swiss LithoClast® Trilogy whereas 16 with the use of Holmium:YAG laser. 
Procedures were supervised by 5 experienced surgeons (>5 years experience in Mini-PCNL).

Pre- and postoperative stone volume was assessed with CT measurements (volumes of multiple stones were added up).

Swiss LithoClast

®

Trilogy

with the ø1.5 mm x 440 mm disposable probe was used in the study.

Holmium:YAG laser

with 550 um fiber was used in all laser Mini-PCNL cases.
Study endpoints 
Stone clearance time (SCT)

- time interval from activation of the lithotripter until insertion of the nephrostomy tube at procedure conclusion.

Stone-free rate (SFR)

- assessed with CT or ultrasound (US) within 12 weeks after Mini-PCN

L.
Intraoperative and postoperative outcomes - lithotripsy duration, soft and hard stones eradication time, stone volume clearance time, and complications.
Results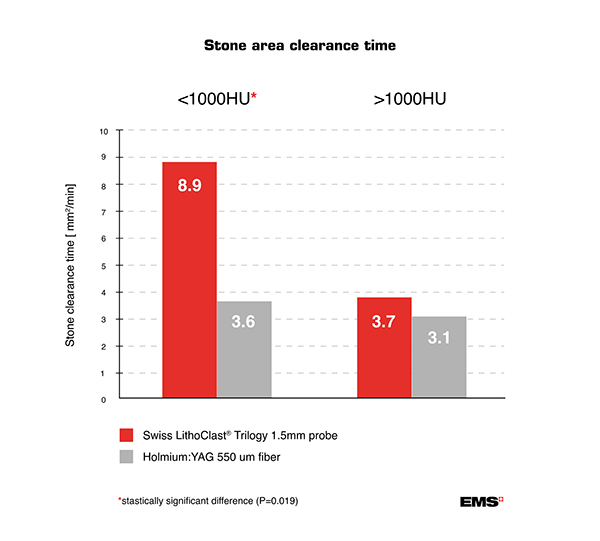 Stones with the hardness  <1000 HU were removed 2.5 times faster with Swiss LithoClast® Trilogy ø1.5 mm probe than with Holmium:YAG laser.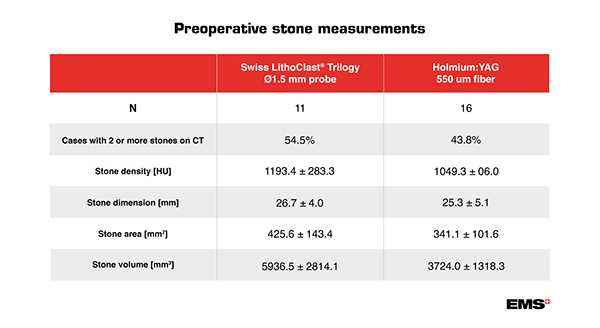 The average stone volume clearance speed was 70.4 mm3/min for Swiss LithoClast® Trilogy vs. 37.6 mm3/min for Holmium:YAG laser.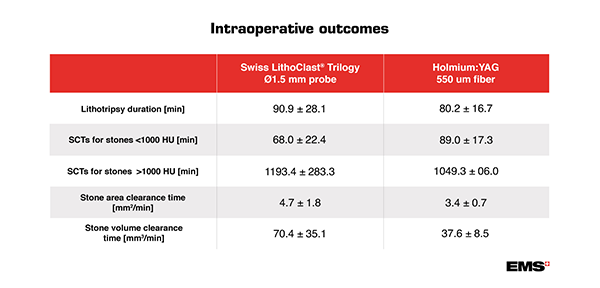 In both cohorts, stone volume reductions were ≥95%. No device-related complications occurred in either group.
Conclusion
Results obtained in both cohorts are comparable between devices, however Swiss LithoClast® Trilogy performed better in terms of eradication of soft stones (i.e.<1000HU).
Access the full study here: https://www.ncbi.nlm.nih.gov/pmc/articles/PMC7769519/